COMPANY
VCC B.V. is an international distribution and trading company for plastics raw materials. Combining efficient distribution, long lasting partnerships and a hands-on approach, we are a reliable supplier providing with up-to-date market information, best price and on time delivery, every time.
Family History
Please find a brief introduction of The Vredenburg family below:

My great-grandfather worked at Jacobson v.d. Berg in Batavia (Jakarta) and later became the president of their New York branch. During the second World War he was a member of the Netherlands Purchasing Commission.

My grandfather worked at Lindeteves-Jacoberg. He was stationed on Bali and Jakarta and was responsible for many Asian trading affairs. He traded many commodities like : cacao, sugar, coffee, iron, rubber, textile etc .

My father owned a trading company in plastic raw material for over 30 years. The accent of his business was export and import of Asian product.
Due to this long trading experience (over 90 years) and the outstanding relationship with our partners, we founded VCC B.V.
We are always interested in new challenges and trading opportunities.
Inspired by my ancestors and in the tradition of the old well-known Dutch trading houses I'm looking forward building up a strong, long-lasting and successful relationship with you.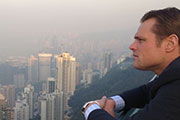 Richard Vredenburg
Founder & owner